By Natalie Scott
Rumford, ME- "Watching my team compete without me my senior year has been difficult, but I know they gave everything they had out on that floor," said Jeana Ronan, a senior at Mountain Valley High School. Ronan has been on the team all four years of high school, until now. She is unable to compete due to an injury, but is still in high spirits. "Even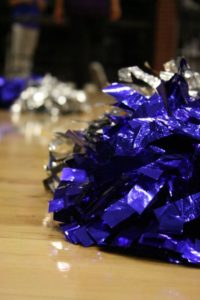 though I can't compete I still cheer at the basketball games and travel with the team to watch them compete," said Ronan.
Ronan said, "It has been different this year. We have a new coach, we don't have team captains, and we don't have a theme to our routine like we usually do." High school cheerleading teams usually have a mixture of songs put into one to create a routine with. Due to budget cuts in the system, the cheerleading team was only able to afford one song, rather than multiple.
Ronan also explained how the cheerleaders have had a "theme" to their competition routines for years and years before this. This is the first year that they haven't done so in a very long time. In the past they have used themes such as; Madona, Country, Work, Paradise, and much more.
On Wednesday, February 11th the Mountain Valley Cheerleaders took the floor. The State competition was held at the Augusta Civic Center for all classes A through D. Seventeen cheerleaders competed against thirteen other teams for the Class B title, and for the first time Jeana Ronan sat and watched. The team is limited to three minutes on the floor from the start of the music to the stop.
Coaches Josette Duguay and Kate Cote worked the team hard all season for this one moment. The team took the floor in front of six judges and did their best. For the three seniors on the team, it would be their last time competing in a state competition. They were set out to face Greely, Leavitt, Morse, Fryeburg, Medomak, Lake Region, Freeport, Poland, New Gloucester, Lincoln, Spruce Mountain, Wells, and Oak Hill high schools. Out of the thirteen teams they were up against, the team came in eighth place.
"It was nice to watch my team for one last time, even though I wish I could have been out there with them" said Ronan. Even though her injury stopped her from competing this season, she plans on cheering once again when she goes off to college. Senior Makayla Miller also says she plans on continuing her cheering journey when she leaves high school and ventures off to college.
Even though the team didn't make it to the regional competition, they all seem to be in high spirits, making the best of the season by finishing strong and cheering at all of the basketball games. Each member of the cheerleading team is required to cheer at all of the home basketball games for the girls and boys teams. They will be finishing their season in March and many of the team members are ready to be cheering during the football season.