By Bryan Sidelinger- Black Violin, a group centered around two men mixing classical music with hip hop on a a viola and a violin, are coming to the Gracie Theater. Black Violin is composed of Kev Marcus (aka Kevin Sylvester) and Wil B (Wilner Baptiste), two classically trained string instrumentalists who met in high school 20 years ago in Miami.
"We're not the typical violinists, we're not the typical guys with classical degrees," said Sylvester, on the group's Facebook page. "We've studied classical, but we've lived hip-hop."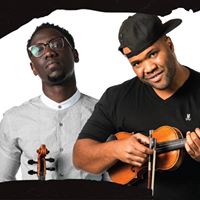 Bangor is the 9th stop on the "I.M. Possible" tour, a twenty-seven date tour, spanning 25 cities over three months, from early March thru Early June. Bangor's is the only tour date in Maine, and is only one of three places in New England the group will play on the tour, along with Boston and Providence, Rhode Island.  
Black Violin breaks all the rules, blending the classical with the modern to create something rare- a sound that nobody has ever heard, but that everybody wants to feel.
They've shared stages with top names including Kanye West, Aerosmith and Tom Petty, and has creatively collaborated with the likes of Wu-Tang Clan, Wyclef Jean and Alicia Keys, and have also played for President Obama.
Managing Director of the Gracie theatre, Jeri Misler, first heard of Black Violin from a fellow arts presenter who had headlined the group and sold out a 5000 seat theater. "I looked them up on her recommendation and was blown away, not only by their talent, their show but their backstories as well," Misler said. "I was determined to have them here, thinking students would really love their music, and their show."
But Misler admits to thinking the chances of landing Black Violin to play the Gracie were pretty slim. "With a 490-seat theatre, it was unlikely we would have the budget to bring this kind of group to Husson, not to mention that we technically manage such a big show. However, the agent was interested in expanding their market into Maine so he was willing to work with me."
It's a very good get for Husson and the Gracie Theater.
According to the groups facebook page, the group combines "a daunting array of musical styles and influences to produce a signature sound that is not quite maestro, not quite emcee, this group of two classically trained violinists and their DJ is redefining the music world-one string at a time. To most people, jazz, hip-hop, funk, and classical are musical genres. But to Black Violin, they're nothing but ingredients."
Black Violin first learned to play their signature instruments (Wil Baptiste) at the viola 14 years old and (Kev Marcus) the violin at the age of 9. The duo's clearly training in classical music is unmistakable. "It started for me with Bach, 'cause Bach is the equalizer, you know?" Sylvester said in an interview with NPR. "To me, Bach is the hardest thing you can play, because he exposes everything about you. He exposes your weaknesses and makes you work harder. I always think of Bach as, like, the closest composer to divinity."
But blending that sound with hip-hop and creating and original sound that also shatters stereotypes is were the group truly finds it's love in music. Sylvester says, "The reason I smile on stage is because I know I'm completely crushing people's perceptions of not only what a violin can do, or what music can possibly sound like, but also what a black man is capable of."
for tickets, visit gracietheater.com.