Men's Lacrosse Honors Seniors
By Tyler Hewey
BANGOR, Maine –  The 2019 Husson men's lacrosse season ended on Tuesday as the team fell to Maine Maritime Academy in a North Atlantic Conference showdown in overtime in Castine, Maine. The season, despite the 4-7 record and the 3-3 record in the conference, was a positive season.
The 2019 men's lacrosse team defeated the University of Southern Maine for the first time in program history after senior Zach Glazier scored the game-winner in overtime on February 15th.
Head coach Mike Craig became the winningest coach in program history after the Eagles defeated the Badgers on February 16th while Glazier scored his 100th career goal.
On Saturday, April 20th, the program honored it's nine seniors before the Eagles defeated the Terriers, 29-3. The Eagles tied the record for most goals scored in a game in the victory.
We take a look a look back at each of the seniors.
#4 Blane Miller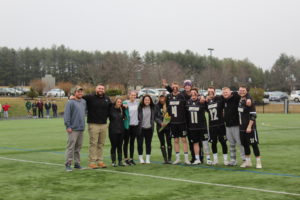 "Blane always brought a jovial spirit to practices, games, and of course team lifts," said coach Craig. "One of the most well-rounded midfielders we have had as he kills off penalties and helps facilitate our offense. His willingness and skill as a passer, of course, will be missed."
Coach Craig couldn't be wrong about his ability to pass as Miller is only the fifth player in program history to record 50 assists for men's lacrosse. He ranks second in assists per game as he averaged 1.32 assists per game. Throughout the three seasons at Husson; Miller dished out more assists. His senior season, he averaged two assists per game which ranks second all-time. 22 assists, in a season, is tied for the fifth-most in program history.
Miller will graduate on May 11th with a Bachelor of Arts in Computer Information Systems and a Masters in Business Administrations.
#6 Chad Merrill
"Chad has flourished as one of the best defensive players in our league and has been an absolute joy to watch play," said coach Craig. "His contributions to lacrosse and to our program cannot be praised enough."
Merrill stats speak well for what Coach Craig was saying as he ranks 3rd all-time in career ground balls with 269 and ground balls per game with 5.27. Most in part due to his senior season as he recorded the second-best single-season for ground balls per game with 7.09. The other stat that Merrill will be remembered for is caused by turnovers. He ranks 5th all-time in caused turnovers with 85 and 4th all-time with 1.61 caused turnovers per game.
Merrill will graduate in a couple of weeks with a nursing degree.
#14 Brad Brink
"Brad is a tireless worker, who has grown into a day in and day out the starter on defense," said Coach Craig. "He has really elevated his game the last few years and helped make our defense as strong as it is. Brad has set a great example for the younger guys on how to work to your fullest in the classroom and the weight room."
Brink's contributions to the team are one that isn't shown in the stat book as a defender. He recorded his lone assist and point on April 29, 2017, versus Maine Maritime. Brink recorded 50 ground balls including his career-high of six on Senior Day versus Thomas.
Brink, a consistent member of the Dean's List, he will be on his way to obtaining a Doctorate in Physical Therapy.
#13 Matt Martin
"Matt is a quintessential goalie as his teammates certainly know," said Coach Craig. "There is never a dull moment with him at practice or on away trips. Once it is the game day though, Matty is one of the most focused and driven players it has been our good fortune to coach."
Matt Martin has the most career saves in program history with 514 and has the second most saves per game with 12.24. Martin also has the second most wins as goalie in program history with 14. Martin is the only goalie in program history to record a point as he has three assists including one on a senior day. On Senior Day, Martin also recorded two shots and a shot on goal.
Martin will graduate soon with a degree in Sports Management and will be on his way to an MBA.
#16 Zach Glazier
"He is a human highlight reel," said Coach Craig. "He is a complete player, an amazing lockdown defender, a menace on ground balls and one of the highest motors we have seen. His commitment to the game and this program is profound. He has always been able to provide a timely goal or force a caused turnover; his greatest gift to his teammates is showing what playing the sport full of heart and joy looks like.
The stats don't do Glazier justice. He ranks 3rd in assists with 68, ranks 4th in goals with 115, and ranks 4th in points with 183. He ranks 3rd in points per game with 3.33, 3rd in assists per game with 1.24, and 4th in goals per game with 2.09. Glazier's best season was his sophomore season as he scored 28 goals and 31 assists for 59 points. 31 assists in a season rank second best as Glazier averaged 2.21 assist per game which was a program best. Glazier also has two saves in net as he was a goalie for half a game on April 14th, 2018, at Northern Vermont-Johnson.
Glazier will be graduating with a Masters in Business Management.
#19 Nick Zavorotny
"As a sophomore, he had one of the greatest runs a goalie has had here," said coach Craig. "He was a stone wall and carried us into and through the playoffs. He is one of the hardest workers on the team and is a great leader on and off the field. He has helped the program so much through his selflessness and commitment and has set a wonderful example to his younger teammates."
His sophomore season was his biggest season of action as he saw 615 minutes of playing time out of his overall total of just under 850 minutes. He ranks 3rd all-time with 8.20 saves per game and 5th all-time in saves with 164. Unfortunately for Zavorotny, he was the backup goalie to one of the greatest goalie in program history.
He will be graduating with a degree in Sports Management.
#22 Zach Gosselin
"He has battled injuries, hard times, and good times to become one of our captains and one of our best defenseman," said Coach Craig. "He is a tireless worker and always is a challenging his teammates to get the most out of them. He has always given his all to the program and to the game. His jovial spirit will be missed next year."
Gosselin, like Brink, works on the field doesn't show in the stats. He played as a lockdown defenseman is one that will be hard to replace. His lone assist and point came on March 16th, 2019 vs. NVU-Johnson. One of the best moments that he will be remembered for was this hit on April 4th, 2017 versus Maine Maritime. Video has been provided by the Husson Eagles' Twitter Account.
Gosselin will graduate with a degree in Environmental Science.
#27 Adam Littlefield
"Adam is one of the greatest success stories of the program," said Coach Craig. "He thankfully decided to not play baseball or football here, which allowed him to become one of our leading scorers this year. He learned the game to master it in his four years here. It has been a joy and a privilege to coach such a hard worker and a student of the game."
Littlefield scored 30 goals on his senior year which was a career high. He ranks 11th all-time in goals scored. Most of his goals came right down low as he was a presence inside for the Eagles. The Glazier and Littlefield 1-2 punch will be hugely missed at Husson.
Littlefield will graduate in early May with a degree in Hospitality and Tourism as he works towards completing his MBA.
#0 Blake Campbell
"Blake has one of the highest lax IQ's and does so much to help his teammates on the offensive end," said Coach Craig. "It doesn't show on the box score but he makes dozens of plays throughout every game that allow his teammates to thrive and help us win. We are very glad he transferred from Becker to help make our team and more importantly the program better. "
Campbell transitioned from a midfielder role to an attacking role during his senior year and the stats showed as with a career-high six goals this season in seven games played this season. Two goals came on senior day versus Thomas. Campbell, also, made an appearance in net for the Eagles during in his junior year versus Green Mountain on April, 23rd, 2017.
Campbell will be graduating with a major in Sports Journalism.
All nine seniors each left their own mark on the program that surely will be missed.