By Bryce Carter
Husson Spectator
BANGOR, ME- The Husson University Men's Basketball team is flying high right now with a 12-6 record, with a 10-2 conference record, with an eye towards the playoffs and the number one seed. They were riding a 4 game winning streak until they lost a close game when they traveled to Bowdoin 78-72. They are currently in first place in the North Atlantic Conference. They are followed by Castleton, who they share the same overall record with, but Castleton's conference record of 7-5 helps the case for the Husson Eagles. If Husson can win their fair share out of the seven remaining regular season games, six of them being against conference opponents, they should be in good shape to once again host the NAC playoffs. http://www.hussoneagles.com/sports/mbkb/index
I had the opportunity to sit down and talk to Husson head coach Warren Caruso about the team this year and their hopes in the playoffs. When asked about what the team has done well this season, Caruso says that they have progressed very well, stating that the team had started off playing great, then started to struggle, but changing the starting lineup and getting more consistency from the players helped a lot. Caruso says that chemistry at first was an issue with this team, but good play from the freshmen on the team helped a lot, and they are moving in the right direction and in good position to get the number one seed. "We always felt like we had championship talent," Caruso says about his team's playoff hopes.
Offense is key for the Eagles this season. They are currently averaging 77.7 points per game, and senior guard Raheem Anderson is averaging a team high 25.8 points per game. The team is also has a 41.7 field goal percentage, shooting 33.6 percent from beyond three point range, shooting 73.3 percent from the free throw line and average 13.9 assists per game. The Eagles get it done from every aspect on offense. Coach Caruso says that scoring makes the game easier for the team. "It makes it easier running through Raheem Anderson," "Everyone has a role".
When asked what the team needs to improve on before playoffs, Coach Caruso stressed heavily that better defense is the number one priority. The Husson Eagles are so proficient on offense that they have not had to rely on defense, but Caruso says he would like to see that improved before playoff time. He also says that he would like to see the team be more consistent.
Right now, the Husson Eagles are leading the pack in the North Atlantic Conference, but that doesn't mean they are the only ones capable of this success. Coach Caruso says that one of the teams that can stand in the Eagles way come playoff time is Castleton. Caruso is very high on 6'7" senior forward Chad Copeland of Castleton. Caruso says that he is "One of the best players in the conference." Copeland is currently averaging 17.9 points per game and shooting a 50.8 field goal percentage.
Another team that Caruso says can be dangerous is Lyndon State. He says that they have a loaded roster, they haven't played to the level possible and are going to have to fight to get in. Caruso also says that the conference is up for grabs, but Husson has separated themselves, and he is focusing on his team.
Coach Caruso speaks wonders on star senior guard Raheem Anderson. Anderson recently scored his 1500th career point. Caruso says that he plays a big role on the team, and that his skillset and leadership are huge components for the team's success. Caruso alsos says that if the Eagles want to continue their success, other players around him will need to step up and put in quality minutes. Anderson is currently averaging 25.3 points per game and is shooting 44.1 percent from the field. The next leading scorer for Husson is Mitch Worcester with 12.7 points per game.
Coach Caruso is very high on his group of guys this year. He says that their offense will be the key to their success, and behind Raheem Anderson, they should be hosting the playoffs again this year. If they keep scoring at the pace that they are comfortable with, they should have no problems locking up the number one seed in the North Atlantic Conference. Playoffs start on February 21st, and here's hoping that the games will be held at the Newman Gymnasium.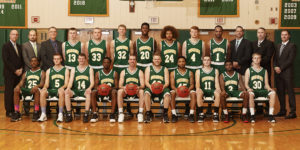 http://www.hussoneagles.com/sports/mbkb/2016-17/roster