By Bryce Carter
BANGOR, ME- Husson University students will have the opportunity to see number two seed in the NBA's Eastern Conference Boston Celtics next Sunday, March 26th. The 43-25 Celtics take on the 33-35 Miami Heat in the TD Garden in an Eastern Conference matchup. This game could be a potential playoff matchup as the Heat are a half a game out of the seven seed, which means they would face off against the Celtics in the first round of the playoffs. Miami needing this win to try and fight for a playoff spot. Boston being two games out of the number one seed could use this win to propel themselves into the top of the East, so Husson students and Celtics fans could be in for a real treat.
Students will take a Cyr Bus from campus to the TD Garden in Boston for the game next Sunday. Husson Student Activities is putting on the event, and students are getting excited to see the Celtics in action. Husson student Shane Althouse is a big supporter of the trip, and says that is a great opportunity have fun with fellow students, and to see the Celtics in a year that they are one of the best teams in the league. "I really think it helps students be more social with people they do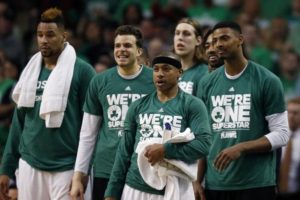 n't really know and to help them get out more. Plus the opportunity to see Isaiah Thomas cross people up is amazing just staying pat at the deadline and still being able to beat good teams."
Husson has done trips to see the Celtics in years prior, but this is the first year that they have championship aspirations and are a team that will be playing in the playoffs. This will most likely affect the turnout of the trip, with more people wanting to see a winning team. "I think this will excite a lot of people knowing Boston really doesn't have a superstar but is a legit title contender," Althouse says about Boston's winning season.
The Celtics take on the Heat on March 26th, and tickets are still available. They are 40 dollars and are available in the Student Activities
 Office located in Peabody Hall. Limited tickets available. Tip off for the game is at 6 p.m.