Brianna Bires
Husson Spectator
Bangor, ME– The Dining Dickerman center is the focal point for food at Husson University. It is staffed with people that are dedicated to serving high quality food at Husson. It offers a wide variety of nutritious foo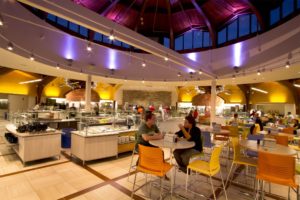 d that gives all the different taste buds at Husson a chance for them to have food they enjoy.
Each meal gives students at least two different meal choices to choose from. This allows students to not constantly eat the same meals everyday. Each station also allows students to customize a majority of their orders to their liking. Pizza is always offered, but you never know what kinds they may have. A salad bar and wraps and sandwiches are always there for your custom made order. There is also a homestyle station for your favorite comfort foods.
Caitlin Bean, a freshman at Husson, says she appreciates having comfort foods. "After I have had a long day, sometimes it is really nice to have some chicken nuggets and french fries."
At the different food bars, there are options for vegan, vegetarians, pasta of the day and food allergies.
Olivia Smith, a sophomore at Husson, is vegan and gluten free and she says she can almost always find something good t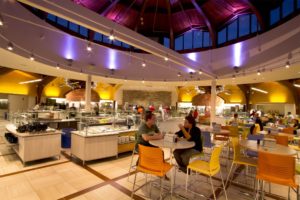 o eat that fits her needs. "It is always so hard for me to go places and find something that is actually good for me to eat. Husson does a pretty good job of having food for everyone."
The Dining hall is open seven days week for all three meals and even deseret before students go back to their dorm rooms for the night. Even if students don't live on campus, there are ways for commuters to enjoy the dining hall as well. These are called commuter meal plans. If you don't want to set up a meal plan, you can pay $7.00 when you walk in.
There is also an Eagle Grab and Go. This is for students that don't have time to sit down and have a meal. Instead they can order some food and take it to go. It offers It is also open later than the actually Dining hall. This is for students that get back to campus late or prefer to eat later in the night.
All the meal plans at Husson provide flexible dining dollars that can be used all over campus for food. There are other places to get food. Cressey's Marketplace and Willey's Cafe are other grab and go's that are located at a different part of campus for students to get something quick. They offer a variety of different foods that you can have made.
While you are enjoying Husson dining, you may get lucky and see Grandma Husson. She is famous for interacting with the students and providing mouth watering meals.