Though cliché, one may say Madeline Hoeppner is a woman of many hats. In the fall, Hoeppner coaches Husson Women's Field Hockey Team. In the Spring, she coaches the Women's Lacrosse Team and all the while, she coordinates marketing and promotions at Husson.
Hoeppner graduated from Sacred Heart University in 2013 with a Bachelor of Science in marketing. "It's something that I've been passionate about and I went to school for, so it's awesome that I get to coach and use my degree," Hoeppner said. She creates the athletic department's newsletters, creates the photo colleges hung in the hallways and manages the golf marketing material.
The Lacrosse team secured the fifth seed Tuesday night with the win over Maine Maritime Academy. Hoeppner said the goal for the season was to secure the third seed in the North Atlantic Conference, but would settle for a lower seed to make it to playoffs. Hoeppner has lead the Lacrosse team to the playoffs every year in the skipper position.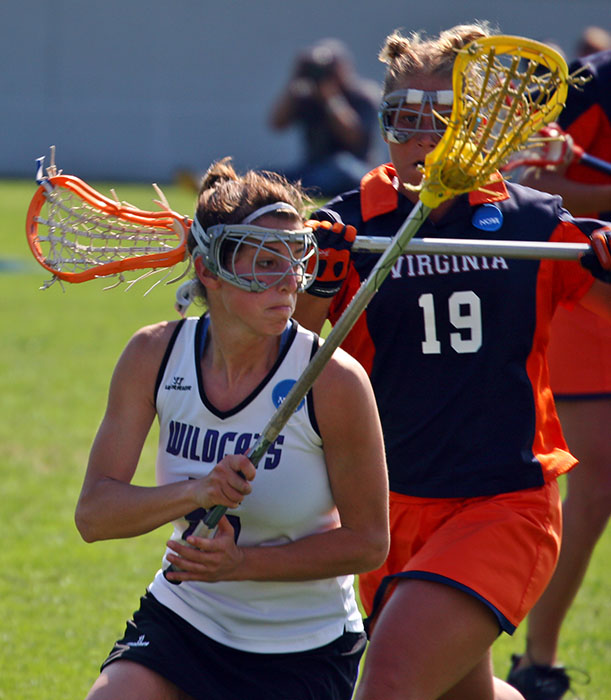 Lacrosse is one of the fastest growing sports in the United States. The National Federation of State High School Associations reported high school participation for lacrosse grew 528 percent between 1990 and 2008 in the United States. Hoeppner said the sports has benefitted from coaches becoming more knowledgable and experienced through the complexity of the sport. "Field hockey in the air, I would say is the best way to describe it," said Hoeppner. She said it has ties with soccer and basketball, as well, "It's kind of a complicated game."
As Lacrosse is nearing the end of the season, Hoeppner will prepare for Field Hockey season. "When I'm in field hockey season, I can't wait for lacrosse season. When I'm in lacrosse season, I can't wait for field hockey season," Hoeppner said. Which is her favorite sport to coach? "Plead the fifth," Hoeppner replied.
Hoeppner explains that the two teams are very different. Only one athlete, Kaitlin Dolloff, plays both sports. "For me, it's literally one team, then a completely other one in a completely different sport," said Hoeppner. Hoeppner said she has to alter her coaching style between the two seasons to match her teams. "Patience is very, very important. This isn't a Division I program, I have to remember this is a DIII program. I'm getting girls, freshman, that haven't had coaching, like proper coaching, and you know, just give them time, let it click, and don't expect everything over night."
The Women's Lacrosse team will travel to New Hampshire to play Colby-Sawyer in the North Atlantic Quarterfinals on Friday.