By: Nick Langille – The Spectator
February 14, 2019
BANGOR — Evening gowns and black ties were back in style this Valentine's Day at Husson University.  The school hosted an Eagle Semi-Formal on Feb. 9 in celebration of Valentine's Day. It was held in the Richard E. Dyke Center for Family Business, the building right next to Bell Hall on the Husson campus.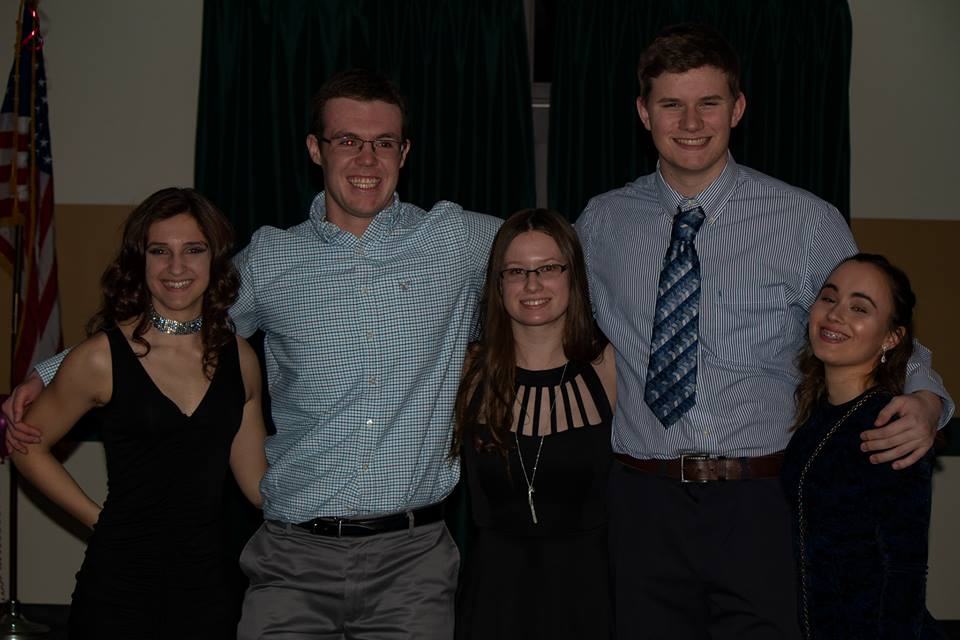 There was drinks, music, light appetizers catered by the Eagle Formal Club, and a dance floor for those in attendance.
A semi-formal also known as cocktail attire or after-five, is the go-to dress code for most weddings and dressier parties. Men were expected to wear collared, buttoned-up shirts with dress pants or slacks and dress shoes. Tuxedos were not necessary for a semi-formal. The ladies could show up in dresses (close to the knee) with heels. Dress sandals and some open toed footwear for women were acceptable.  Also, women could wear pearls or metallic jewelry at the semi-formal.
Kris Bridges, a Husson faculty member, was the DJ for the dance. He played a variety of music.
The price of admission was $10 for singles and $16 for couples at the door. However, if you bought a ticket(s) in advance, it's $8 for singles and $10 for pairs. Tickets could be purchased in the campus center at Husson University. David Blais, President of the Eagle Formal Club, said anyone who purchased a ticket could come.
Blais is a sophomore majoring in hospitality and management at Husson University. He oversees all of the other Eagle Formal Club officers and helps out with different individual tasks and event planning. Along with club Vice President Andrew Ballou, Blais came up with the idea of a dance because Husson never held a semi-formal before. They started a group page on Facebook that introduced the idea of a semi-formal to others.
Blais liked the idea of starting the Eagle Formal Club and planning semi-formals.
"We wanted an excuse to get dressed up, hire a DJ, have some fun, and we figured to build a club around it," Blais said.
In addition to Blais and Ballou, other officers of the Eagle Formal Club include Secretary Marie Dierman and Treasurer Kiana Oxton. Officers spruced up the Dyke Center with lights and other simple, elegant decorations in anticipation of the event.
The club hoped to teach students about etiquette. Jeans, dirty/torn clothes, sneakers, and flip-flops were not permitted.
Adam Colter, a junior majoring in hospitality and tourism at Husson University, planned to come. He attended most school events whether it's Grocery Bingo, Bowling, or the Lip Sync Battle. Colter noticed something unique about the formal which made him interested.
"It's something different, Husson hasn't done an Eagle Formal," Colter said. "I commute, so I thought it would be something fun to do on campus."
Husson's Eagle Formal Club expects to plan more semi-formals in the future. Blais said that they want to do a winter ball next year.
Follow the Eagle Formal Club on Facebook or message David Blais at blaisd@husson.edu for more details.