By Adam LaFleur – The Spectator
March 21, 2019
BANGOR, Maine – Working with the latest digital gear available is vital to students at Husson University's New England School of Communications. Knowledge of the computer and software systems currently used by tech companies and media organizations may open the door for students to get jobs after graduation. Husson has a full-time staff that ensures students have access to functional equipment so they can prepare for rewarding careers.
J. Michael Adams is an infrastructure support technician at Husson. He manages the software for all Macs (computers manufactured by Apple Inc.) on the university's campus. This includes installing updates, fixing day-to-day issues, and deploying new software. Adams also assists NESCom faculty in maintaining the school's sophisticated audio and video gear. He troubleshoots problems with Macs and classroom technology such as digital projectors, when faculty members come to him with problems.
"It's very rare that I come in and I know exactly what is going to happen that day," Adams said. "If I have a plan, forget it."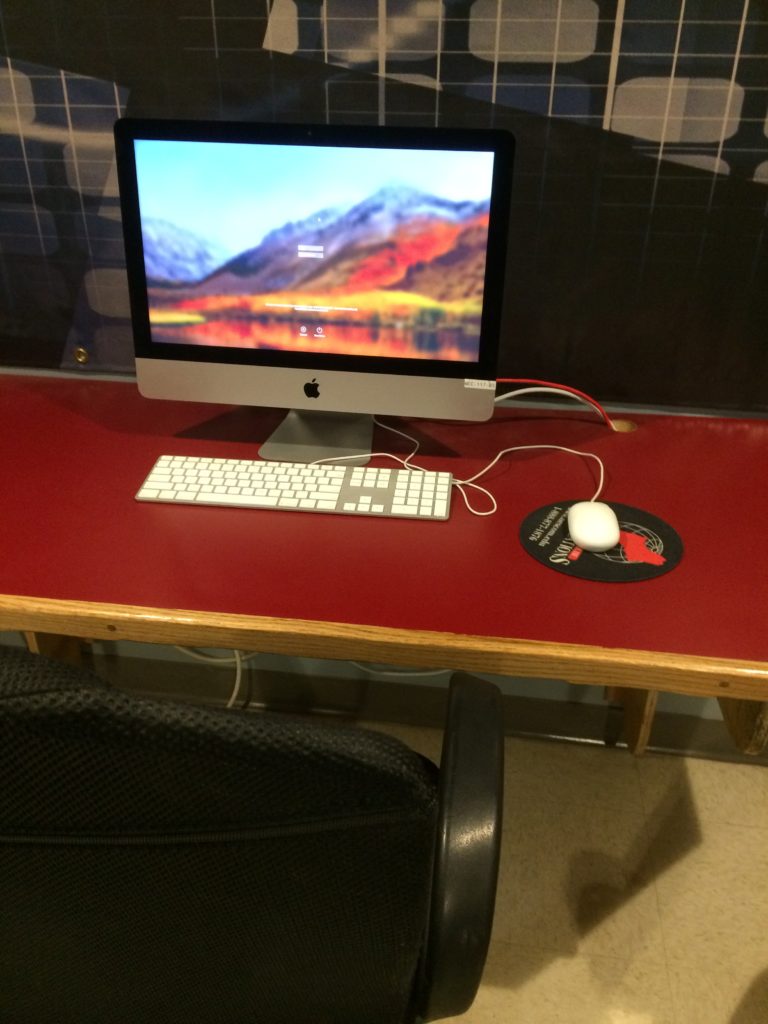 A 2014 NESCom graduate with a degree in web design, Adams is now in charge of over 200 pieces of software that run on the school's Mac computers. He is responsible for ensuring that the software installs and uninstalls properly without needing special rights to run on Husson's machines. NESCom has many advanced software programs for students to use as they train for professional careers in audio, video, graphic design, and entertainment production. Adams monitors and maintains these programs so they run smoothly on a daily basis. He does not typically use them for creative purposes like NESCom students and faculty.
"What's funny about us is that we know how to install this gear, but we don't necessarily know how to run it all," he said. "We'll have a student that comes in and says 'Hey this computer is doing this' and while we don't know how to help them with their project, we know how to make the components talk. We're the back-end guys. It's our job to fix the car, not race it."
Assisting students with technical glitches is an important part of Adams' job. His web design background allows him to help current web majors as well as students in other disciplines. Many NESCom students are required to take Husson's Web Design for Non-Majors course.
"We will try to help students," he said. "We're more than happy to help anyone who walks through the door and has a question in any way that we can."
Mac computers require users to enter a system password before installing new software. PCs do not have a similar password feature when new programs are installed on Windows devices. Adams said Macs are also programmed not to install any software from manufacturers who do not have software certificate agreements with Apple. Applications that do not come from the Apple Store are automatically classified as malicious by Macs. In this case, the software's maker must have a specific certificate issued by a third party stating that their programs are free of malware. Only then may software that is not made by Apple be installed on Macs.  
"This [third party] company issues them [the software's manufacturer] a certificate," Adams said, "and on the other side of it, Apple says 'alright we trust that this certificate of authority also is going to vet for other people that are not making malicious software."
Microsoft has such an authenticity certificate that is recognized by Apple. Adams said this allows popular Microsoft Office programs including Word, PowerPoint, and Excel to run on Mac operating systems. The software certificate requirement is indicative of the way Apple does business.
"They [Apple] are very strict, they're very to the letter, they're very secretive, and they don't disclose a whole lot of information in most cases," Adams said. "There's a line in the sand and they draw it and they stick with it."
Apple also doesn't give significant discounts to schools or corporations who want to purchase large quantities of Macs or other Apple products.
"Sometimes they'll give you little bit of a break," Adams said. "It's usually not in the sign of a computer or a device, but more of maybe Apple Care [a protection plan for Apple devices] and things like that, but not much."
Despite the sometimes unfriendly way Apple markets and sells its services, Adams is content to serve as Husson's Mac expert. He works to ensure NESCom students have functional computers and technical gear so they may prepare for careers in the growing digital industry.
"I love my job," he said. "Not many people can say that…everyone here is like a family. I don't have to go to any meetings or do any paperwork. I don't have anything negative to say about my job."