Husson Student Works As Lumberjack During Summers
By Kevin Doyon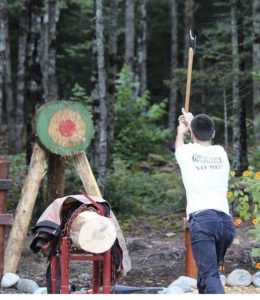 TRENTON, Maine — Every summer night, rain or shine, from the middle of June until the end of August, you can find Husson University junior Dylan Kelley at Timber Tina's Great Maine Lumberjack show in Trenton, Maine. The Ellsworth native has been a mainstay in the show since the summer after his freshman year of college; but his interest in the craft sprouted long before.
"In sixth grade my elementary gym teacher, who worked in the show, took us there on a field trip," he said. "I was really good at the log rolling, so Tina asked if I wanted to log roll in the shows."
With his interest sparked, Kelley began to take log rolling lessons. By eighth grade he was participating in the shows.
"I would do that, and then in the spare time I would practice other events too," he said.
Kelley took a break during his high school years, but said he would fill in for other lumberjacks and jills when he was needed. Now, he participates in all of the events, which includes underhand chop, cross cut sawing, hotsaw (modified chainsaw), speed climbing, ax throwing, disc stacking, chainsaw carving, and log rolling.
"I enjoy all of the events that we do. I really like the underhand chop but I'm still partial to log rolling; that was my first love."
The Show's creator, "Timber" Tina Scheer, will be leading the show into its 26th year this summer. Scheer is a decorated Lumberjill in her own right, as she has won world championships in log rolling and cross cut sawing. She also competed on Survivor and Ultimate Survival Alaska as well as earning a silver medal in ESPN's Great Outdoor Games.
"Dylan has come a long way since he first started with us. He's become one of our top lumberjacks and we are really lucky to have him."
While the events that they compete in are the same every night, Kelley says you won't see the same show twice.
"Four lumberjacks compete in a show, on teams of two," he says. "We compete in the same events every night, but we don't plan it out who wins. It's genuinely competitive — I'm always trying to beat who I'm going against."
He added that for a show that is relatively similar on a nightly basis, it can feature a little bit of everything and you never know quite what is going to happen. Last summer a lumberjack proposed to a lumberjill in the middle of the show.
"We have people from all over the country come to our shows and of all ages," he said. "It's something a lot of people have never seen before and they have a lot of fun. It's really a show for everyone."
The show also tours around the state of Maine, and the its all-female team, Chicks With Axes, goes all over the country.
"We're definitely glad he's kept coming back and we're looking forward to another summer," said Scheer. "He brings a lot of fun to the show."
In his third year doing all of the events, Kelley says he's seen 400-500 shows, and estimates he has participated in a about 300 of those. He says he has no reason to believe he'll be hanging up the ax anytime soon.
"In the lumberjack competitions, they have master divisions over 50, so you can do this until you can't do it anymore," he said. "I'm going back this summer and I don't see myself stopping anytime soon."