Senator Collins Will Speak At Husson Graduation
By Kevin Doyon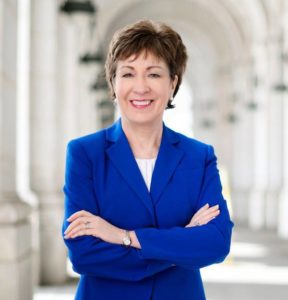 BANGOR, Maine — The Husson University 2019 graduation ceremonies will feature a familiar face to Maine residents. The university recently announced that Susan Collins will deliver the commencement address during Husson's 120th Annual Commencement Exercise, which will be held at the Cross Insurance Center in Bangor at 10:30 a.m. on May 11. Collins has served as a United States Senator since 1996.
"Senator Collins has earned a national reputation as an effective legislator who works across party lines to seek consensus on our nation's most important issues," said Husson University President Robert Clark.
Clark says that one of the biggest factors in choosing Collins to speak at the ceremony is her dedication and determination to change lives; which he says is something the University strives for as well.
"She is constantly working to transform the lives of the people of Maine. Her insights into the importance of positive change, and the need to work with others, make her insights critically important during these difficult times."
Husson has been constructing a new Wellness Learning Center, and plans to create a new College of Business Building.
"Husson University continues to grow and evolve," said Clark. "We are constantly evaluating our programs and developing new offerings."
This year's Commencement will award over 880 degrees to approximately 810
Graduates. The class of 2019 will feature students who have completed their degrees
from Husson University's College of Business, College of Health and Education, College of
Science and Humanities, New England School of Communications (NESCom), and the School
of Pharmacy.
One of those who will be receiving their diplomas is physical therapy student Aaron Boumil.
"It's pretty cool that Senator Collins will be speaking at graduation," he said. "She has a lot of respect around the state and I'm excited to see what kind of advice she has to give us."
Collins who grew up in Caribou, Maine, has ties to Husson University as well. She was the founding executive director of the Richard E. Dyke Center for Family Business at Husson. She also received Husson University's honorary doctorate of public service in 1997.
She ranks 12th in Senate seniority and is the most senior Republican woman. Collins chairs the Senate Aging Committee and the Transportation, Housing, and Urban Development
Appropriations Subcommittee. She also serves on the Intelligence Committee and the Health,
Education, Labor and Pensions Committee. In addition, Senator Collins has never missed a roll call vote, casting more than 6,900 — which, according to the a press release by Husson University, can be attributed as a result of her "Maine work ethic."
Senator Collins was the Commencement speaker last year for the University of Maine's graduation ceremony.