By Bryan Sidelinger-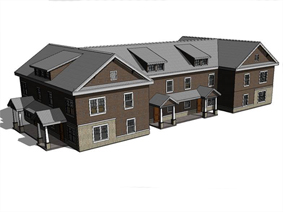 In Bar Harbor, it's early spring, and businesses are starting their hiring for another busy tourist season. But there's a problem; the amount of available jobs far outweighs the amount of available housing for seasonal workers, who come to Bar Harbor from in-state, out-of-state, Jamaica, Eastern Europe, and multiple other places from around the world to work for the season.
"We have a housing problem. People buy up housing in Bar Harbor and can rent it short term for a lot more money than they would get for long-term rentals,"said Code Enforcement Officer Angie Chamberlain, in an interview with the Bangor Daily News.
Back in 2006, Bar Harbor voters approved placing restrictions on where in town short-term rentals could be located and implemented several layers of safety inspections and permitting. But property owners in Bar Harbor rejected those restrictions, and took the town to court, citing a violation of property rights. The town not only lost in court,  and lost available housing for seasonal and year round employees, but it also lost money, and according to a Bangor Daily News Report, losing between $10,000 to $20,000 fighting one case alone.
"I think the motivation [was] entirely just trying to loosen up some of that housing for year-round residents," Chamberlain added.
Carnelia Hunter lived at the YWCA in Bar Harbor for over two years, before her boss literally built her an efficiency apartment into his expanding Acadia Hotel. Now she's on the other side of the issue.
"Myself, I'm the supervisor of the hotel, so it's my job to find housing for my employees. I have to leave for the Y at six a.m. on April 1st, to secure beds for them."
A quick look at the 'MDI Rentals Resource' Facebook page reveals dozens of new posts every day, of people looking for housing- either in town or on the island- which go and answered. Large hotel chains like Witham hotels and Ocean Properties Ltd. do offer employee housing, but often it's not enough. "I've heard from employers that folks don't come here to work because they can't find housing that suits their need," she said. "The biggest employers all struggle with it," like MDI Hospital and Jackson Laboratory, as well as College of the Atlantic, which needs affordable options for students as well as faculty and other employees," said IHT Executive Director Alison Beane, in an interview with the Island Institute.
The housing shortage hits smaller employers even harder. Chris Strout, owner of Acadia Stand Up Paddleboarding says hiring employees is easy. To retain the a place for an employee to stay is a different story. "I have had several instances where someone was really excited about coming in doing the job," Stout said. "But they couldn't find a place to live and that had to back out of taking the job. That… that happens a lot."
It's a vicious cycle for employers and employees. Every year, Mount Desert Island and the town of Bar Harbor see more visitors than the year previous. As space becomes a premium for tourists, business get busier but it pushes out room for workers. More visitors, more work, less people to actually do the job. Houses that tourists rent out by the week in the summer are often left vacant for the winter, because people who vacation on MDI are willing to pay more per night than year-round residents, allowing property owners to make more money by renting their houses out by the week for a few months of the year than they would by renting them out by the month throughout the year. As busy as Bar Harbor is in the summer, a stroll through its neighborhoods in the middle of winter reveal many, many homes sitting empty and dark.
The restrictions placed on property owners in 2006 were rolled back in 2009. But there may still be a solution on the horizon. Acadia National park, which has 150 summer employees, is looking to become the first national park to partner with a private developer to meet it's housing needs. While there is no partnership with any private developer as of yet, Acadia officials already have identified a four-acre site for the project in Bar Harbor near part of the Kebo Valley golf course, on Kebo Street between Cromwell Harbor and Park Loop roads. The park currently owns two buildings on the property, built in 1962, that can house eight people. Those would be replaced with one or more buildings that could house a total of 25 to 30 seasonal park employees, according to park official John Kelly and The Bangor Daily News. The park service would lease the site to the developer for 50 years and would allow the developer to build additional units that could be leased to people who do not work at Acadia, Kelly said. Some additional units even could be leased out year-round to people who work exclusively for other employers.
It may end up being the long term solution. But in the short term, another tourist season is right around the corner for Mount Desert Island and the town of Bar Harbor. Which means, another season of scrambling for housing for its employers and employees.