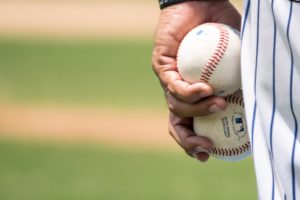 With the Husson Eagles baseball season coming down to its last few games, here's how the season has looked so far.
Husson, with five games left in their season, hold a 19-14 record. Winning four or more games before the end of the season will be huge for Husson, as they could enter the conference tournament on a hot streak. With a 8-4 conference record, Husson has underperformed as they were the preseason number one team in the North Atlantic Conference. Husson is looking to bounce back from their disappointing year last year, falling just short of the conference tournament. 
Going into Husson's game last night against Thomas, Thomas held the top spot in the conference with an 8-2 record. Behind them was Lyndon State with a 7-3 record. Husson, with their 6-4 showing, is in third place. With Husson's two victories over Thomas last night, the Eagles are now tied for second place with Terriers behind only to Lyndon State who are leading the conference after their two wins last night with a 9-3 record. Husson does own the tie breaker with Thomas, if they end up with the same conference record at the end of the season.  
Husson's pitching has been strong down the stretch and will be crucial for them in the conference tournament. This has been a weakness all season as Husson has lost games by scores of 22-0 and 30-0 earlier in the season. The Eagles have turned it around, now winning three games in a row. The longest win streak for the Eagles this season was only a short four games.
Before this season, we spoke to a couple Husson baseball players about what they expected from this year. The record that was thrown around in the locker room was 33-7. Husson has a 19-14 record as of now, which is seven more losses than they thought they would have to end the year.
Isaac Eutsler was asked about Husson's season and if they believe they could have gone 33-7. "I think we could have performed better overall than we did" Eutsler said. "We had the tools to have a 33-7 season, but that 33-7 record was a very possible thing at first."
Husson will play University of Maine Presque Isle this coming weekend to finish up their conference play. Their last game of the season will be against the Colby College Mules. If husson was to win the remainder of their game, they would cap off the season on an eight game win streak and a strong 23-14 record. Husson did have two games this past weekend at New England College get cancelled, with no make up date.
Eutsler was asked about who he believe their toughest opponent in the conference is. "The team that concerns me is Lyndon [State], During conference play we split with them, but we have a stronger overall team. Right now we are taking it just one game at a time."
Husson could possibly play Lyndon State in the conference tournament, where we will finally see who the better team is.