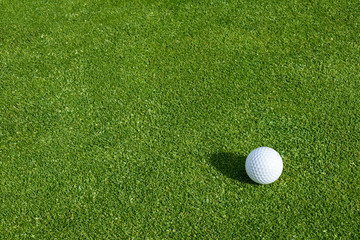 It is warming up in Bangor, Maine, which means it is time to start playing outdoor sports again. Golf is one of the hardest sports to practice in college because most schools don't have their own golf course on campus. Husson University installed an outdoor putting area on their campus last fall, that is approximately 3,000 square feet. This area consists of a chipping area with artificial turf that goes for about 30 yards, and also includes a huge side sand bunker.
Husson is one of the only schools in New England with an on campus practice sight for their golf team, and this will be very crucial to their improvement. Husson is already one of the best golf teams in New England, and now with this toy in their backyard, they will improve much more.
Mens head golf coach Mike Dugas has held multiple fundraisers over the past couple of years to help provide money for this practice area. Husson University also chipped in a generous amount to help the golf team get over the hump. The whole practice area cost around $30,000.
It was hard for students to get to practice at the Bangor Municipal Golf Course in Bangor because of their class schedule. This outdoor putting and chipping area will help the players who are struggling to get to practice by having practice right outside their doors. Chipping and putting are two of the most important things in golf to practice, so this will help increase the players performance on the course.
This time of year, there is still some snow on the ground so the ground is rock hard. This outdoor area is made with turf so the ground won't be as hard come spring. This is going to help the players by getting outside to practice earlier each year. All they need to do is shovel the snow off of it whenever it is nice enough out to practice again. The players on the team will be able to chip and putt weeks before the Bangor Municipal Golf Course even opens.
"I love the outdoor practice area. I've never been able to practice my chipping and putting outside, this early in the year." Sophomore, Hunter Flynn said. "Our short game has been one of our spots this spring, so this is going to help us out a lot."
As said by Flynn, he has never practiced golf outside this early in his life. This means that Husson will have an advantage over schools they play in the North East because they have already been chipping and putting for weeks before those schools have.
The putting green will not only help the players on the team now but it will be a huge recruitment tool for Husson. This practice facility will hopefully attract some great talent to come up and play in Bangor for Husson University.