Brianna Bires
Husson Spectator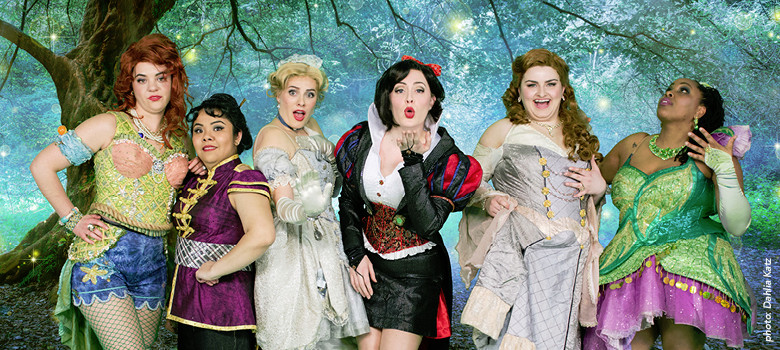 BANGOR, ME– If you were a fan of Disney Movies growing up, or enjoyed showing your kids the magical movies, Disenchanted just might be for you! This musical, which is coming to the Gracie Theatre on Husson University's campus on April 22, is sure to entertain adult Disney fans. From the 7 dwarfs, to glass slippers, to prince charming's, Disenchanted isn't like your typical fairy tale. Snow White and her gang of disenchanted princesses, don't wear the tiaras or act like the classic disney characters. There will be two show times, the first at 5 P.M. and the second at 8 P.M.

This musical has been constantly sold out all over the country. Bringing a hysterical, adult-humor feel to the disney stars, this musical is a must see. But remember, it isn't for the kiddos. Along with Snow White, there is also Cinderella, Sleeping Beauty, Rapunzel, Ariel, Belle, Hua Mulan, Pocahontas, and The Princess who Kissed the Frog.
Bailey Graychase, a junior at Husson says he plans on attending the show.
"I am trying to convince my two roommates to go see it. I hear that it is suppose to be hilarious. It would be a good break from school work."
The musical performed its first sold-out show during 2011 at Orlando's International Fringe Festival. Not only has the show been shown all over the U
nited States, it is going International as well. It has had a production in Santo Domingo and the Dominican Republic.

According to Disenchantedmusical.com NBC New York called the show "funny, irreverent, and great fun! The seriously talented cast of six strong, hysterical women give fairytales a new meaning!" while Time Out New York stated, "If you love fairy tales with a sassy modern twist, relief is here! The not-for-children musical revue DISENCHANTED! gives a saucy makeover to Snow White, Sleeping Beauty and other fairy-tale princesses." The Huffington Post calls it, "funny and a touch wicked. DISENCHANTED!'s pop score delivers to great comic effect." The New York Times describes DISENCHANTED! as "a girls'-night-out rebellion" and FOX 5 says "It's a hot ticket that delivers a new kind of fairy tale". You will laugh and then laugh some more at the sassy, irreverent humor." Broadway Box raves, "Think 'Bridesmaids' for Disney Princesses! This sidesplitting adult parody of the Disney princess posse and its mega-talented cast will make you blush and feel nostalgia all at once."
Carol Greene, a parent of a student that attends Husson says she plans on going with her daughter. "I don't get to see her as much as I would like too because she is in school. This musical will be a fun night out for just the two of us."
If you would like to purchase tickets you may go to graciethatre.com or head on over to the Gracie Theatre and visit their box office. On the website, there is also a list of all the upcoming shows and events that are being held at the Gracie Theatre. So, check it out!