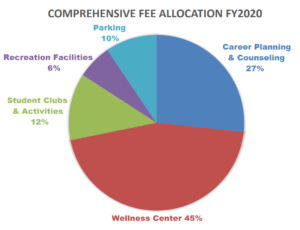 By: Nick Langille – The Spectator
BANGOR — Husson University will increase undergraduate tuition to 3.5 percent for the 2019-2020 academic year. The Board of Trustees spoke with administration to make this decision. Increasing tuition helps the university pay their faculty along with other expenses.
Private colleges like Husson don't receive state funding. They rely on student enrollment to cover the costs of heating, utilities, etc. According to the graph above, 45 % of the tuition costs goes toward the Wellness Center. This funds the cost of the counselors, nurses, and to heat the building throughout a semester. 27 % of the amount aids career planning and counseling. Husson pays faculty to teach students how to make a resumè, practice for an interview, and plan for the future. Student clubs and activities contributes towards 12 % of the costs. The school invites special guests and hosts different events, which costs money. Parking covers 10 % of tuition, which involves paying for a spot on campus. The last 6 % accounts for recreation facilities like the sports fields and gym.
Paying for college can be a burden for families. John Champoli, Vice President for Enrollment Management Admissions says the university does not enjoy raising tuition.
"If we had a $100 endowment, we would not increase our institution. No institution wants to increase tuition, but we have to pay for our bills," Champoli said.
The Board of Trustees, faculty, and staff works together to make college as affordable as possible for students. They don't want to pass the debt onto students. According to a recent study done by U.S. News & World Report, Husson University has the lowest combined tuition and fee price of any private college in New England.
However, individuals may still struggle to pay for college.
"Despite us [Husson University] having a low sticker price, we have lower scholarship amounts because we can't pay for students to attend college," Champoli said.
The sticker price is the stated tuition at a college or university. Then, the institution applies financial aid to each students tuition costs.
Fortunately, there are different ways for people to prepare with the tuition increase. They can apply for scholarships at fastweb.com and on the Husson University website. Students can receive a scholarship due to their financial needs. Also, merit-based scholarships are awarded to students based off academics.
Families can prepare by setting up a 529 College Savings Plan. By saving up money over time, the cost of tuition decreases when their child enters college. This is a great way to beat inflation at any public or private school. Students can also apply for a work study job to pay towards college expenses.
Students can speak with a financial aid officer to find ways to pay for tuition. Their office is located on the first floor of the Robert O'Donnell Commons at Husson University. They can answer any questions people have about loans, finances, etc.
Please feel free to contact the Students Accounts Office at 207-941-7150 or email them at studentaccts@husson.edu for more information about the tuition fees.