Husson Lip Sync: Last Battle Before Clash of Champions
By Patrick Caldwell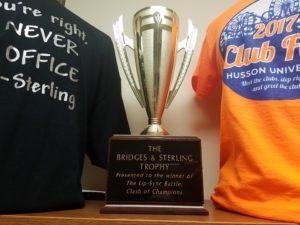 The Bridges & Sterling Trophy is awarded to the winner of the Clash of Champions Lip-Sync Battle. Photo courtesy of Kevin Praik.
BANGOR, ME – Following Adam Colter's big win at the February 15th Lip-Sync Battle (the Penultimate Showdown) at Husson University, a final group of contestants will compete for the final berth in the Clash of Champions in April. The winner of the clash will receive the Bridges & Sterling Trophy.
But before that, there's a final contest to determine the final contestant in the aforementioned Clash; the Last Chance to Clash.
All of these Lip-Sync Battles are hosted by Husson Student Activities Director Sterling Pingree and produced by DJ Kris Bridges. Students who enter a Lip-Sync Battle choreograph their own lip sync routine, then dance and mouth the words to a series of songs they select. Some students will put in an extra ounce of effort and change costumes for each song.
The "Last Chance to Clash" will take place Friday, March 29th at 9 P.M. in the Furman Student Center.
Kevin Praik works for Husson Student Activities under Pingree and has worked many Lip-Sync Battles in the past.
"Even though Husson Lip-Sync Battles have only been running for four years, they've become the most looked-forward-to events here at Husson," Praik explained. "It's become the biggest social event hosted by Student Activities."
The names of contestants in upcoming Lip-Sync Battles are not mentioned until the night of the event. For more information, contact Sterling Pingree at pingrees@husson.edu.