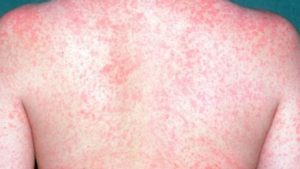 Image Courtesy of The Lowell Sun
By Patrick Caldwell
The tally of those afflicted by measles in the three-month start of the year has already exceeded that of the entire 2018 calendar year. For context, measles was declared by U.S. health officials to be "eliminated" in 2000; this year's numbers are the second-highest since the turn of the new millenium.
Closing in on 400 cases, the uptick in measles cases has spread across 15 states, including California, New York, Texas and Washington, per the U.S. Centers for Disease Control and Prevention. The tally currently sits at 387 cases, which has surpassed the 372 from all of 2018. Most of the outbreaks can be attributed to unvaccinated individuals that travel to places like Israel, the Philippines and countries in Europe, areas in which measles is more prominent, and return to the United States after contracting measles.
"Europe is even worse now than North America," said Peter Hotez, an infectious disease expert at the Baylor College of Medicine. "This is all the new normal. Nobody ever thought we'd ever be at this place."
The outbreaks as well as the increasingly aggressive public health response to them have prompted a spike in anti-vaccine activism. A global movement spreading misinformation about vaccines has been a major factor in driving down child immunizations, effectively lowering the overall immunity in communities that is critical for protection against one of the world's most contagious diseases.
Rockland County, New York banned unvaccinated children from all public spaces last week as it battles a growing measles outbreak that originated in an Orthodox Jewish community. As a result, anti-vaccination activists have compared these public health measures to the Nazi persecution of Jews – measures that included forcing Jews to wear Stars of David as a form of easy identification.

In Austin, Texas, Del Bigtree, the CEO of an anti-vax group called ICAN, wore a yellow star during a rally last Thursday to identify with parents who decline to vaccinate their children. A spokesman for Bigtree said he took the action "to let the Jewish community of Rockland County know he stands with them."

After photos of Bigtree were posted on Twitter, the official account of the Auschwitz Memorial and Museum in Poland tweeted in response: "Instrumentalizing the fate of Jews who were persecuted by hateful anti-Semitic ideology and murdered in extermination camps like #Auschwitz with poisonous gas in order to argue against vaccination that saves human lives is a symptom of intellectual and moral degeneration."

The CEO of the Anti-Defamation League, Jonathan Greenblatt, said in a statement: "Groups advancing a political or social agenda should be able to assert their ideas without trivializing the memory of the six million Jews slaughtered in the Holocaust."